In an effort to inform viewers, the National Weather Service would like to take a moment to explain the definition of specific weather warnings and events.
Winter Weather Advisory – Cold rain mixing with hours of undeserved news footage. Roads will be damp and covered by video cameras. School children will first get excited and then disappointed. That said, you should still buy bread in a frenzy.
Winter Storm Watch – Something stirs in the distance. What is it? What's out there? How can you predict chaos? We can't yet make out what our doom shall be: Snow? Ice? Falcons? Nothing at all? Gather your loved ones and huddle by the fire. Anything may occur. Our science has failed us. We know not our devil.
Winter Storm Warning – There will be snow! Everything shuts down for at least twelve hours. Snow day! You will have so much free time! You've been waiting for a good snow day all winter. The day is filled with possibilities! Buy bread, milk, eggs, paint for the living room, nine jigsaw puzzles, a closet organizer, a book on writing your own screenplay, paint for the kitchen, a grown-up coloring book and 1,000 colored pencils, a book on knitting, yarn, knitting needles, a cookbook, a bread maker, putty so you can finally fix that hole in the hallway, hallway paint, 10 frames for pictures you've been meaning to hang, a tool belt, book about meditation for beginners, book about history, seven very complicated board games still sealed in their boxes, all kinds of books, miner's helmet and pickax (you're finally going to dig that mine you've been talking about!), book on making your own shoes, another coloring book, a computer program for scanning old family photos, and one more book! [After making necessary preparations for a snow day, spend the entire day watching NetFlix instead of doing anything]
Winter Weather Ahoy – The ground will get a dusting of snow. Fire up the Instagram machine of your choice and prepare to take a minimum of 25 pictures of snow — taking less only angers the storm. Continue reading Daily Transmission #30: Winter Weather Definitions →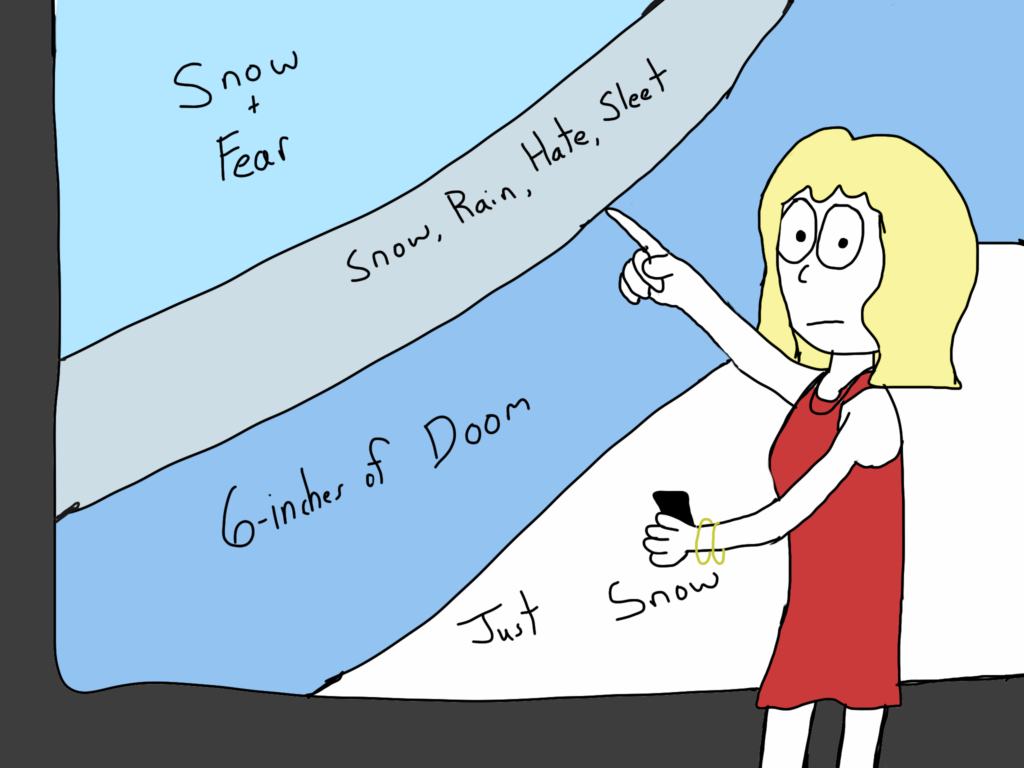 NEWS ANCHOR KIRK FATHOMS
…and despite the lion's appetite, none of the astronauts were injured. Now let's get a check on the weather from Channel 18's Dory Milltrout. Dory, what can we expect with this storm?
DORY MILLTROUT
Thanks Kirk. We're tracking the storm and it looks like we could be in for some significant snowfall totals. Let's take a look at the big board.
As you can see, the storm is moving in from the west and bringing with it a lot of moisture. Now, the storm could change track, and instead of snow, we may end up with three inches of dead turtles. It all depends on how the storm tracks. The next twelve hours are critical.
The computer models for the storm can't seem to agree on snowfall/turtle totals. In fact, one model says the storm will miss us completely, but this is the same weather model that once told us Vicky's party was a costume party, when it was definitely not a costume party. So…that's something to consider. Continue reading Daily Transmission #7: Weather Report →