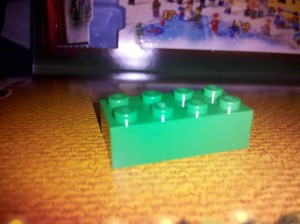 I'm not the only one on the interwebs opening up the Lego Calendar. If you hate me and my words, but still want to experience the fun of daily Legos, check out George and Ayleen, the hosts of Toy Break who are not only fans of toys, but are in the toy-making business. Fun times. Subscribe to their YouTube channel and you can watch the happy couple open up the Advent Calendar with sound and motion. JEALOUS FACE
Day 7 is here and I think it's safe to say that no matter what item comes out of the box, I will like it. Even if the next prize is a Lego sign that reads, "Dan Bergstein looks like a walrus when he runs," I would still display it proudly in Good World. And I would still run in public because I'm beautiful on the inside.
There was no such sign in today's compartment. Instead, it's an item that goes well with a previous item. Can you guess what it is? I don't care because I'm not waiting around for you to reply before I reveal it.