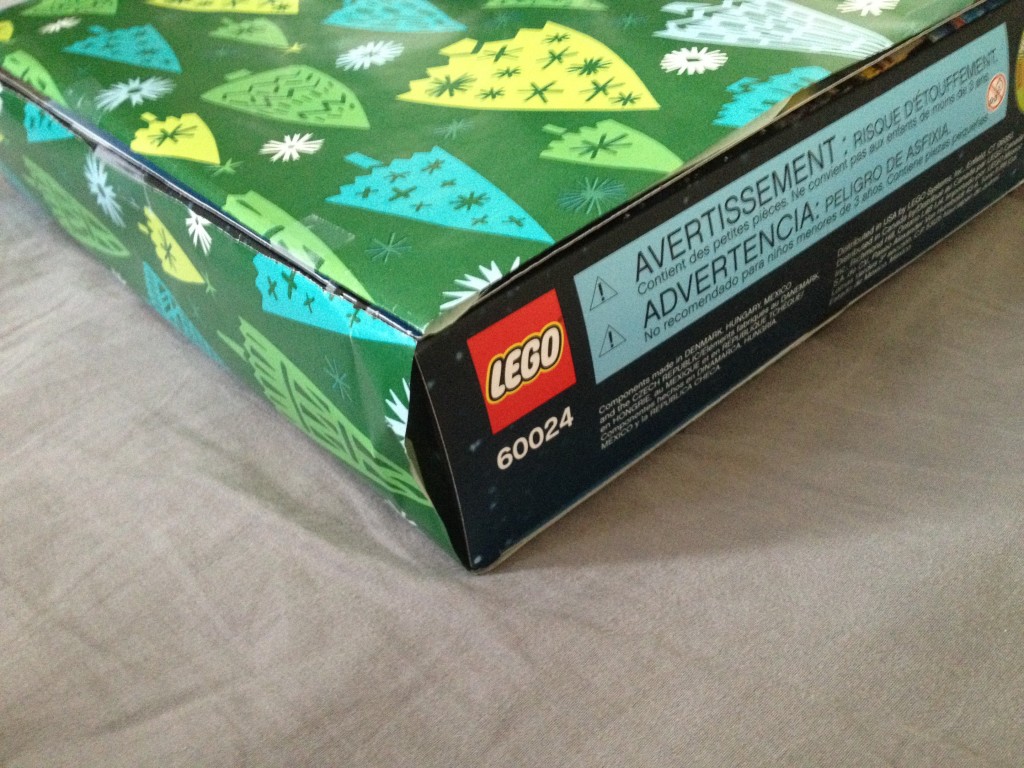 The Lego Advent Calendar is the best thing to happen to Christmas since magic silk hats and lords a leapin'. The calendar is a simple device of 24 cardboard doors that countdown the days until Christmas. Behind each door dwells a Lego thing. You open the door, build the tiny Lego thing, and then write thousand-word articles about it. It's an official tradition in my house.
This is my fourth year opening the Lego calendar. The first calendar I opened back in 2010 made that holiday season among the best I've experienced. It gave me Naked Shower Santa, a gift I shall never be able to reciprocate. On my death bed, at the age of 133, listen close and you will hear me whisper, "Naked…shower…Santa." (But watch out, because when I'm 133, I will also have a cyborg arm that will never die, and may try to punch you for getting too close to my face.)
The following year, I was disappointed that my second Lego calendar went a much more traditional route. It offered some quality Lego pieces, but its lack of bathing Santa left me with a feeling of emptiness. I also really wanted a Mrs. Claus.
Last year's calendar was a nightmare. The Lego Friends Calendar was a joyless experience that not even fire could fix. It also did not contain a Mrs. Claus. Ugh. Just thinking about last December makes my heart hurt.
It should be noted that last December was a rough one for me both physically and emotionally. I was dealing with a hellish commute (five hours, round trip, every day) and working for a company that crushed my soul. I should have been happy. I had a Lego calendar and a job I thought would be a dream gig. But both ended horribly. On top of that, my 2012 was punctuated with a cold/flu so brutal that eleven months later, I'm still worried that by discussing the illness, this very sentence is contagious. Please wash your hands and eyes after reading.
If last December was wretched, that means this December will be AMAZING! That's just scientific math facts.
This year I went with the traditional Lego City Advent Calendar because the Lego Friends Calendar was such a disaster. I also took some (drastic?) measures to ensure each item will be a surprise.
The Lego marketing company must not know what a "surprise" is because anyone who carefully looks at the advent calendar's box art can pick out at least a dozen of the so-called "surprise" Lego items inside. These items are meant to be a secret until the day you open the door! Lego is ruining everything! DON'T SHOW ME WHAT I'M GETTING!
If Lego were making movie posters, the poster for the Sixth Sense would feature a tombstone for the Bruce Willis character. And I would still go see it, because a Lego Sixth Sense movie sounds rather interesting.
To prevent my peeking eyes from ruining Christmas, my wonderful girlfriend wrapped the outside pictures on the box. If you're opening the calendar this year, I recommend you ask, or hire, someone you trust to do the same. Hiding the box art will make for a more exciting holiday season.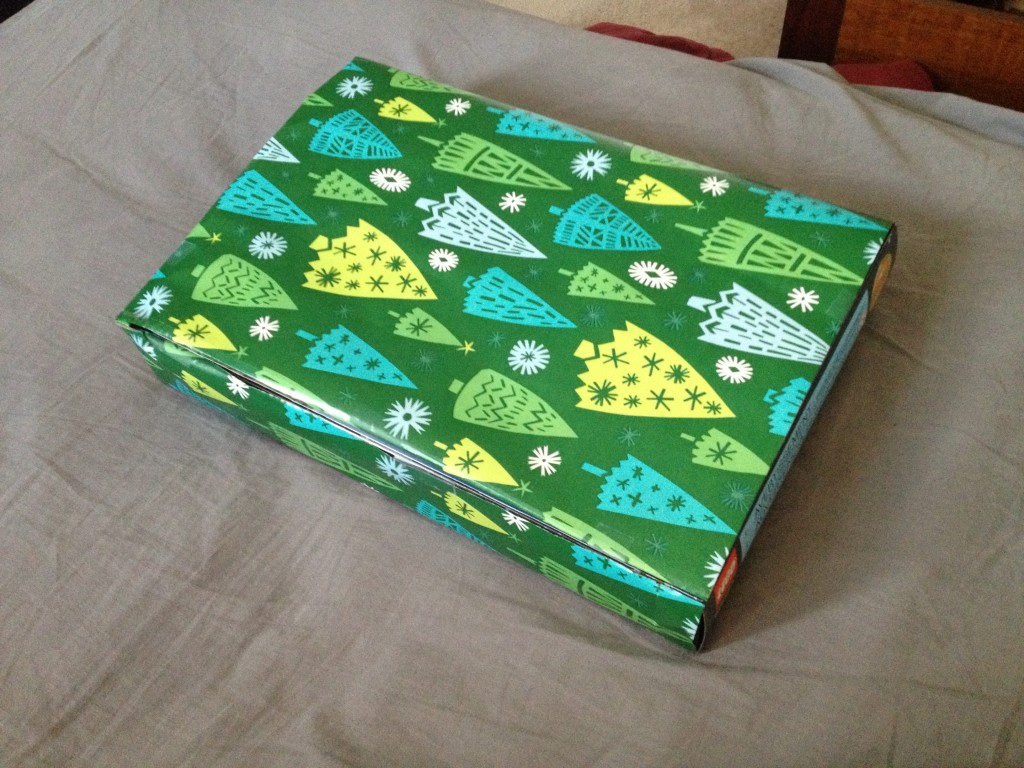 Plus it's fun to have a wrapped present in your room all month long. Feels festive!
Enough intro! Let's now take a deep holiday breath, cross our fingers, say a Lego prayer and open the first door!!!!!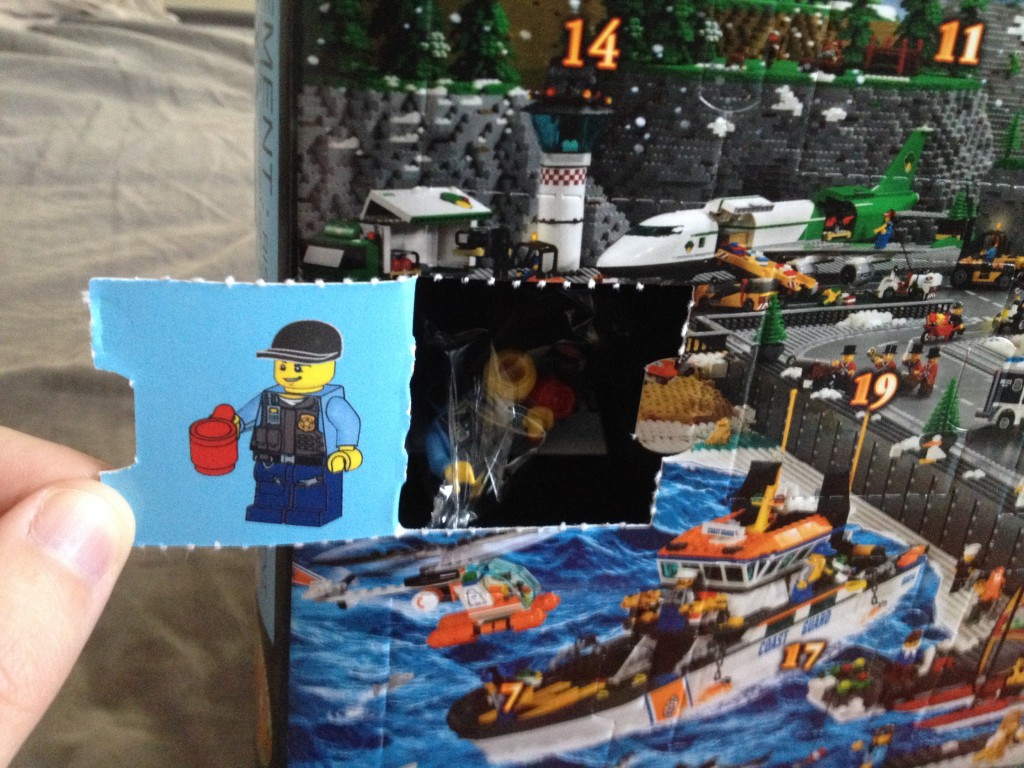 It's a cop!!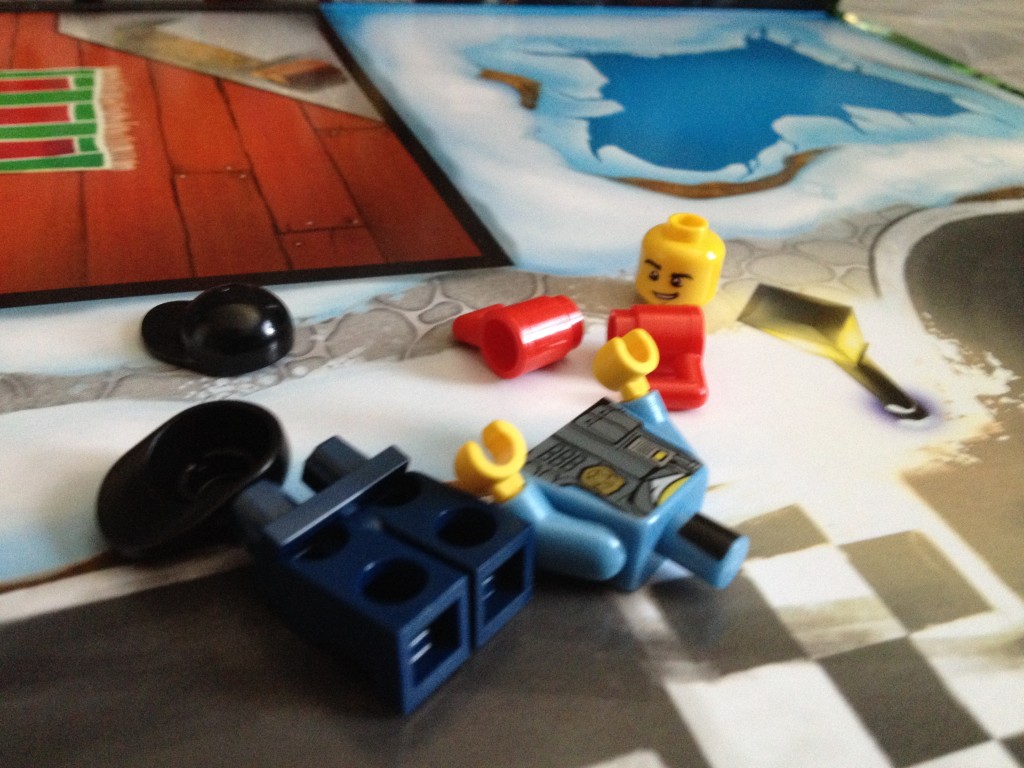 I'm naming him Officer Mickey Duck.
Mr. and Mrs. Duck had a sense of humor when naming their child, but the name led to years of ridicule. This made Mickey tough. He can handle anything. Make fun of his name all you want. He can take it.
Mickey likes to drink, as evident by his two mugs of "Holiday Elixir." He also comes with an extra hat, because Mickey has a tendency to lose hats.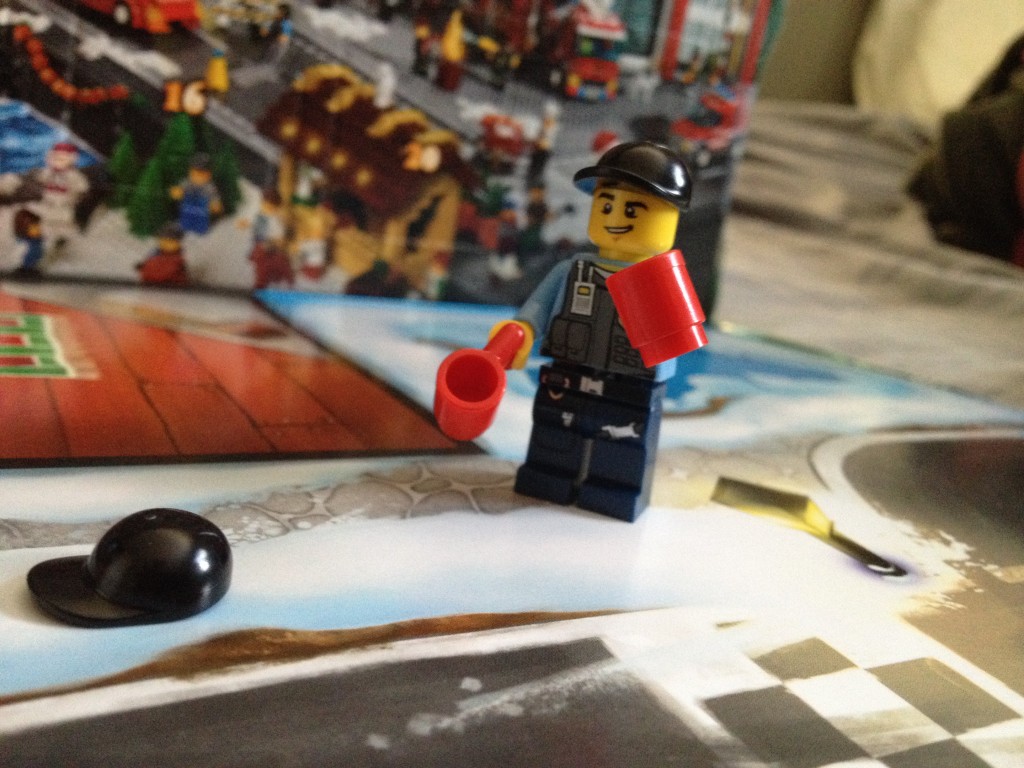 Mickey Duck is wearing an impressive bulletproof vest. It's hard to tell from these photos, but his vest is nicely detailed with pockets and straps.
Welcome to my world, Mickey Duck. I've been waiting eleven months to meet you.
Those who have been reading these posts for a few years know that I already received Lego police officers in a previous calendar. Receiving another cop is a tad disappointing, but I hope Mickey Duck's friends will be more varied.
Besides, can you ever have too many Lego police officers? The answer is: Maybe.
Day 1 Rating: 3 out of 5. (Points deducted because it seems like a repeat of the 2011 calendar…and because I REALLY REALLY REALLY want a Lego Mrs. Claus.)
The 2013 Lego Calendar has begun!!!! See you tomorrow!!!