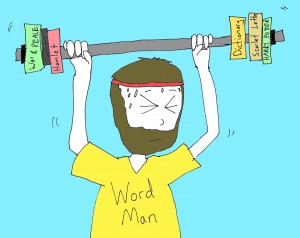 Last week, we focused on creating the best opening sentence for your novel. Before moving on to the second or third sentence, let's stop and workout our writing muscles. These fun exercises will help get the creative juices flowing and prevent possible thought-cramps during the writing process.
Failure to exercise one's imagination and grammar results in shoddy writing and eventual liver disease. Many writers spend thousands of dollars on writing courses and workshops to help train their brains. I'm offering this exercise routine free of charge. Simply print this out, tape it to your workstation or trophy case, and perform seven of the following assignments each day. This will keep you focused and in peak writing condition.
Write a sentence which begins with "Meryl Streep" and ends with "horse eggs."
Conduct a Google image search for the term "scissors" and write a 7,000 word story based on the fourth image you find. The story should rhyme occasionally.
Sum up the meaning of life using only three words and one of the words must be "jellybean."
Write a conversation between two chefs who are in love. One of the chefs is currently married to another man, and the other chef can only say the word "walrus."
Finish this sentence: I would dig up the corpse of Benjamin Franklin and desecrate his grave because…
Begin this sentence: …but that's why we have toes.
How would a Dutchman describe your room? Write a report of your room from the Dutchman's point of view. The Dutchman's name is Dennis.
Stream of Consciousness Writing: Sit at your computer and begin writing. Do not leave your computer for three hours. Without rereading your work, submit the unedited work to every major magazine, newspaper, and book publisher. Wait for success to find you.
Stream of Conscience Writing: Write about a small river that always does the right thing.
What would happen if pies didn't have crusts? Explore this topic in a two-act play called "Flowers of Midwinter."
Using only the titles of Beatles songs, explain why it's important to recycle and where babies come from.
Write a new ending to Forrest Gump which involves sorcery.
Think up new names for the primary colors and every type of tree.
Write your own obituary, beginning each sentence with "However."
A magical genie grants you three wishes, but the genie is a racist who is very mean to animals and the elderly. Would you still accept the wishes? You cannot wish for the genie to be tolerant of other races and kind towards animals and old people. Use this as the starting point for a haiku.
Create a scene in which two people go on a first date. Do not use the word "windmill."
Explain your height using sounds.
Tune in next time, and remember: Great writing is a thing that is good and nice!